GAP's water blasting service combines 15,000 psi water pressure with high pressure guns and tracking systems for tough, effective cleaning power. We've built a water blasting system available to service a wide range of industrial cleaning tasks. In addition to conventional water blasting techniques, Gap has a fleet of Hi-Volume flush trucks for cleaning large diameter storm drains and sewer lines.
Try High Pressure Water Blasting in some of these cleaning jobs:
Pipe Cleaning

Descaling Boilers

Economizer Cleaning
Condenser Cleaning

Tank Cleaning

Equipment Cleaning
Tubular Air Heaters

Basket Air Heaters

Turbines
GEO-BLAST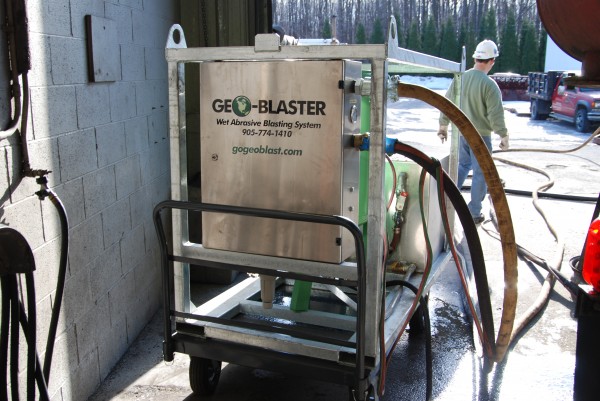 GB400
The GEOBLASTER 400 comes with a 400 pound capacity pressure pot, stainless steel control panel and 55 gal. water tank, 50 feet of blast hose, pneumatic safety switch and lines, nozzle holder, nozzle and fittings.
GeoBlaster recommends GMA Garnet.
Alternate abrasives that have been used in the GEOBLASTER are:
Olivine

Glass Bead

Glass Grit

Plastic Bead

Aluminum Oxide

Sodium Bicarbonate

Corn Cob
Applications:
Building and structural steel.

Construction and maintenance of chemical plant, nuclear and fossil power stations, gas and sewerage plants, and industrial plants.

Construction and maintenance of containers and tanks, tank trucks and rail tanks.

Non-ferrous surfaces (aluminum, brass, copper, titanium) and turbine blades.

Oil and petrochemical maintenance in refineries and storage tanks including on-shore and off-shore.

Shipyards, new builds, conversions and repair including special steels as well as aluminum super structures and aluminum and fiberglass hulls.

Bridges and weir locks.

Stainless Steel.

Stone building facades and monuments.